URAN Publishing Service
URAN Publishing Service Limited Liability Company
URAN Publishing Service Ltd. is a company founded by the URAN Association in 2014 as a technology integrator and operator of a number of scientific and information projects for science and education. The main activity of the company is development of software for scientific information analytics and dissemination. Among partners and customers are universities, academic research institutions, government agencies, analytical agencies, business and non-profit organizations and institutions of Ukraine, the United States and other countries.
The URAN Publishing Service cooperates with leading information and analytical centers, aggregators of scientific and information resources, specialized search engines of scientific information, academic and national libraries.
The URAN Publishing Service Ltd. is an official agent (Sponsoring Organization) for Ukrainian scientific publishers in the Publishers International Linking Association (http://crossref.org). As a CrossRef agent it supports DOI regional register and acts as authorized Ukrainian intermediary between publishers and the only global registry CrossRef DOI and as operator of the national Ukrainan registrar of scientific works (Journal articles, monographs, dissertations, etc.).
The company is one of data providers of ORCID register (http://orcid.org) and acts as operator of the consolidated register of Ukrainian scientific works. This status allows the URAN Publishing Service Ltd. to implement different projects related to scientometric analytics on pan-Ukrainian or science-segmential level.
According to the National Business Rating the URAN Publishing Service Ltd. is qualified in 2017 as one of "Leaders of the Branch".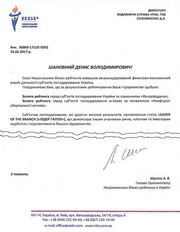 Requisites:
Full Name:
URAN Publishing Service Limited Liability Company
Short Name:
URAN PS Ltd.
Registered Address:
Ukraine 04116, Kiev, Tbiliskyi ln. 4/10
Mailing Address:
Ukraine 03056, Kiev, Politekhnichna str. 33, Igor Sikorsky KPI , building 2, of. 105
Bank Account (UAH):
¹ 26004554518300 in JSC «UkrSibbank», Kharkiv, Ukraine, MFO 351005
Bank Account (USD):
Intermediary: BNP Paribas U.S.A. - New York Branch, New York, USA, SWIFT: BNPAUS3N
Account with institution: 0200 6115 1200 138 UkrSibbank, Kharkiv, Ukraine, SWIFT: KHABUA2K
Beneficiary: account 26004554518300, URAN Publishing Service Ltd.
Taxation:
Payer of corporate tax on a general basis
Unified State Register Number
39166558
VAT Payer Sertificate:
not a VAT payer
Tax Identification Number:
n/a
Ñhief Executive Officer:
Director Denys Solovianenko acting under the Charter
tel. +380 44 204-9837,
e-mail: